Tiananmen Square
Great Wall
Forbidden City
Summer Palace
Temple of Heaven
Beijing Zoo
Wangfujing
CCTV Tower
Don't know anything about Chinese food ??

Featured western restaurant
Tourist Trail - Wangfujing Street
Wangfujing is now considered the central heart of the city. Certainly from Wangfujing all areas of Beijing are easily accessible. Wangfujing is a fairly long street. A walk from end to end would take you about 30 minutes, and that's without looking at any shops.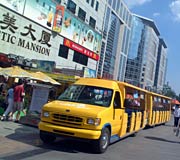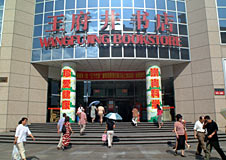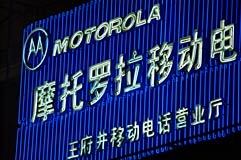 The street has two major shopping malls, one of which, Oriental Plaza, sprawls a further 2 blocks to the east (and another 15 minute walk). Wangfujing street is also home to a number of large department stores, souvenir stores, and whole side streets full of food stalls, Chinese painting stores and other goodies.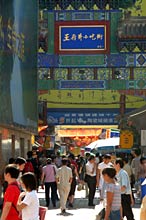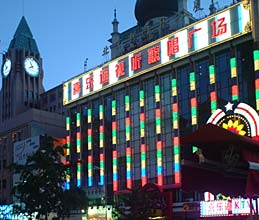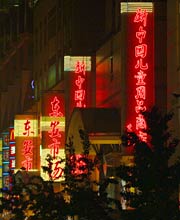 It is also home to one of the biggest book stores in Beijing, (Wangfujing Bookstore) and probably the largest outdoor TV screen in Beijing.
At night, when Wangfujing street turns on its ever increasing number of neon advertising signs, even more crowds flock to soak up the atmosphere. The neons can now be compared to those of any major city in the world and are very popular with the tourists, especially those coming from less developed parts of China. Most shops stay open till around 9pm and sometimes an impromptu night market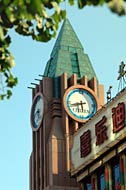 Getting to Wangfujing is pretty easy. You can take the subway and get off at the Line 1 Wangfujing (118) station. Alternatively, you can of course take the taxi. Show the following to the driver:
王府井大街
Recommended tour operator
Bargain/haggle a great price !