Tiananmen Square
Great Wall
Forbidden City
Summer Palace
Temple of Heaven
Beijing Zoo
Wangfujing
CCTV Tower
Don't know anything about Chinese food ??

Featured western restaurant
Tourist Trail - Temple of Heaven
The Temple of Heaven is a large park and temple complex situated in more or less the south central area of Beijing. Its center piece is a large tower built, it is said, entirely of wood and not using a single nail.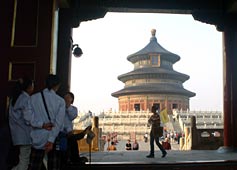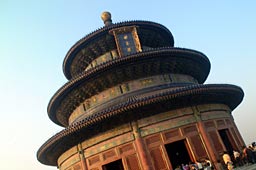 Having said that, the main features of the park are its trees and inhabitants. The park is filled with more than a thousand species of tree, some of which are hundreds of years old, despite their relatively small size. One thing you could notice here is that most of the architecture here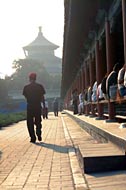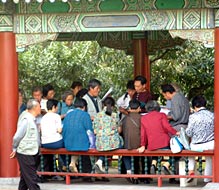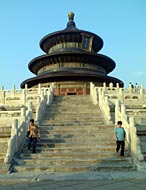 The park also attracts local residents by the thousand each day, who come to practice singing, martial arts, Peking opera, chess, dancing, calligraphy. Of course, this can be said of many parks in Beijing, but the Temple of Heaven attracts more than its fair share.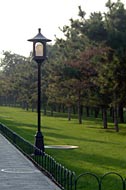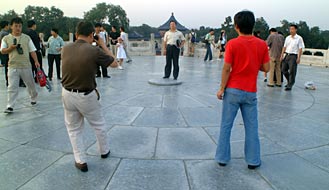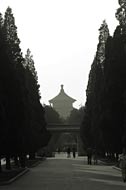 The park pricing structure is as follows, you can buy an entrance ticket to the park for a relatively cheap price, and then you will be asked to pay again for the tower and the echo wall attractions. Alternatively you can buy a combination ticket for 35 RMB which lets you into everything.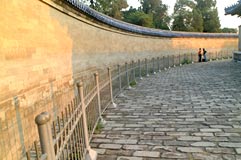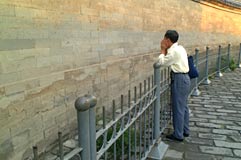 One of the separately ticketed items is the echo wall. It is a smooth wall built in an almost complete circle. It is said that if you stand next to the wall and talk at it, the words are carried along the wall and can be heard from any point. It sort of works, except that a protective barrier now stops you getting really close to the wall.
The best way to get to the Temple of Heaven is by taxi as the buses are really not very convenient. You can also maybe get a tour from your hotel, but the price will probably be a lot more than doing it alone and its really close to the center of Beijing. A taxi from the center shouldn't cost you much more than 20 RMB, could even be as low as 12 RMB depending on where you're coming from.
The following is the Chinese name for the Temple of Heaven which you can print and hand to your taxi driver.
天坛公园
Recommended tour operator
Bargain/haggle a great price !