Tiananmen Square
Great Wall
Forbidden City
Summer Palace
Temple of Heaven
Beijing Zoo
Wangfujing
CCTV Tower
Don't know anything about Chinese food ??

Featured western restaurant
The summer palace is located in the north west corner of Beijing right next to Beijing University. Constructed as a place of rest and recreation for the emperor of old, it is now open as a public park and is one of the most impressive places to visit in Beijing.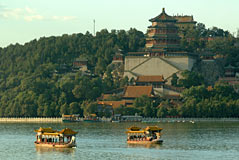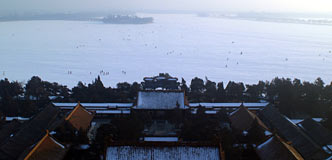 The focus of the Summer Palace is a huge lake with a long walkway circling it. To the one end is built a series of towers, halls and temples climbing the hillside. From the buildings towards the top of the hill you can see the entire lake and its surroundings. The picture on the right was taken in mid winter and those are not boats on the lake but rather people walking on the ice.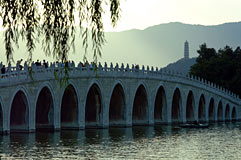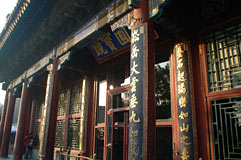 The park is accented by many small architectural features such as the beautiful 17 arch bridge which leads to a small island, and the pagoda on the hill of the far shore. There is also a large boat built from stone to look out for. In the summer you can go boating on the lake. You can go with a group on one of the large dragon boats, or you can rent your own electric powered boat by the hour.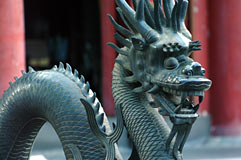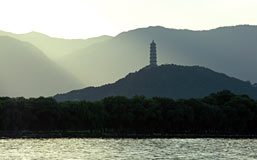 It will take about 50 minutes to just over an hour to reach the summer palace by taxi from the center of Beijing. If you want to take the bus it could take an hour and a half or more. The taxi cost should be no more than 50 RMB. The bus fare if you're willing to brave it would be less than 7 RMB. The summer palace entrance fee is around 30RMB. Boat rental stops early at around 4.30pm so get there early if you want to rent a boat.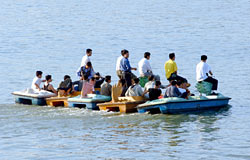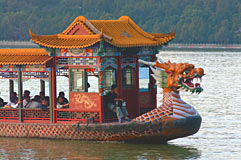 When you leave the summer palace, getting a taxi back can often be a problem, and so can traffic on the small roads leading out. Be very careful about taxis parked near the Summer Palace, they are often fake or have adjusted meters. Try to find a taxi which has just pulled up, or one which is cruising by. Another option is to take a tour from your hotel. Most hotels can get you on some kind of tour which will give you a coach there and back.
This is the Chinese name of the Summer Palace. Directions are hardly necessary as every Beijing taxi driver should know exactly where it is.
颐和园
Recommended tour operator
Bargain/haggle a great price !