Taxi Tip 1
Taxi Tip 2
Bus Tip 1
Bus Tip 2
Subway Tip 1
Subway Tip 2
Subway Maps
Don't know anything about Chinese food ??

Featured western restaurant
Subway Tip 1 - How to buy a subway ticket
In Beijing subway stations, somewhere you will find a counter like the one pictured below which is selling tickets. Nowadays it conveniently states "Tickets" along with the Chinese. Depending on the time of day and the station you might see a queue or maybe a "huddle". We advise you to be a good foreign tourist and encourage the queue.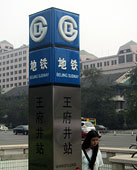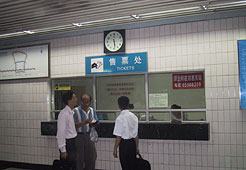 The ticket will set you back 3 RMB. This will take you anywhere on the main two subway lines. (1 & 2). There are now two other subway lines in operation, the 13 line in the north, and the "Ba Tong" Line 1 extension in the east. These other lines cost more money to ride and you can buy combination / transfer tickets as follows:
| | |
| --- | --- |
| Subway Lines | Price |
| Anywhere on lines 1 and/or 2 | 3 RMB |
| Line 13 only | 3 RMB |
| Line 1 Ext (Ba Tong) only | 2 RMB |
| Transfer 1, 2, 13 | 5 RMB |
| Transfer 1, 2, 1 Ext (Ba Tong) | 4 RMB |
Most foreign tourists will rarely venture off lines 1 and 2, so you will primarily be interested in a basic 3 RMB (line 1 & 2) ticket. If you don't speak or indicate otherwise you will be sold a simple (line 1 & 2) ticket. It will look something like the one below but it may be a different color such as blue or yellow. If you really do intend to use Line 13 or Line 1 Ext., please refer to our page on buying and using a line transfer ticket.
After buying your ticket you then proceed down the stairs to the platforms. Some officials will ask you for your ticket at this point. Most people in Beijing give them the whole ticket, as no-one will ever ask you for it beyond this point. Outsiders may feel uncomfortable without half of this ticket so if you insist, they will rip it in half for you allowing you to proceed with your proof.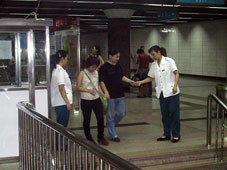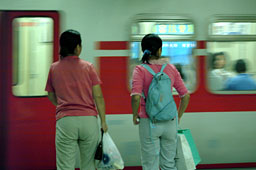 Once you're on the platform you then have the joy of figuring out where you are and where you're going. You usually only have two directions to choose from and there will only ever be a 2 line transfer station, so you shouldn't have too many difficulties from thereon. We now have a complete map of the subway system online or for download and printing. Visit our Beijing Subway Map area now !
Recommended tour operator
Bargain/haggle a great price !