The main thing to remember when dealing with Chinese currency is the 5 Jiao note is not 5 RMB. We've seen foreign tourists at the subway station confused as to why the 3 RMB ticket is not covered by their 5 Jiao (0.5 RMB) note. The next thing is to watch out for fake currency. There are many fake yellow-style 50's and less new-style (red) 100's. We will cover how to spot a fake note in a future tip.
The other interesting thing is that the 100 RMB note is currently the largest denomination note available. This means when you go to buy some high-ticket item like an airfare, mobile phone or your next six months rent in cash, you have to bring a small suitcase of 100 RMB notes.
The currency in circulation is as follows: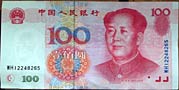 100 RMB two types although only one in common circulation. The maximum denomination note. Equivalent to about $13 US. The older style is blue (picture coming soon) and is pretty much gone but is still valid currency.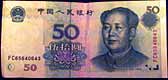 50 RMB two types, both in common usage, newer type to the left. The older, yellow type is larger and proved a big target with currency forgers but this style is dying out slowly.
20 RMB one type circulating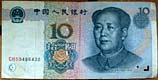 10 RMB two types circulating. The older one to the right (picture coming soon).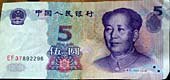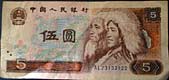 5 RMB two types circulating. The left style is the newer, harder to fake version. It is slightly smaller than old one.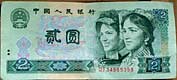 2 RMB one type circulating.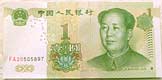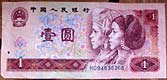 2 different 1 RMB notes and a coin. The new green 1 RMB note (left) was introduced in late 2004. The 1 RMB coin is fairly large, about 2cm and heavier than all other coins.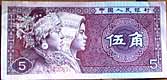 5 Jiao (0.5 RMB) note and coin. The 5 Jiao coin is fairly small and is easily recognisable as the only bronze colored coin in the Chinese currency system.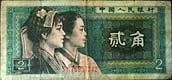 2 Jiao (0.2 RMB) note. As with the 5 Jiao note is smaller than the 1 RMB note by about 15%. The 5, 2, and 1 Jiao notes are all pretty much this size.


1 Jiao (0.1 RMB) note and coins. Note, the 1 Jiao coin is tiny. Its about 1cm across. Most of the Fen coins specified below are bigger than the 1 Jiao, but worth much less. Also an older 1 Jiao coin still exists. Its larger and made out of the same light, cheap metal as the Fen coins.

5 Fen (0.05 RMB) coin. No note circulating that we know of.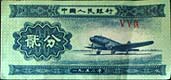 2 Fen (0.02 RMB) note and coin. Together with the 1 Fen note below, these notes are very small indeed. They are not very common and make great souvenirs if you find yourself given one. The notes are about 3cm high, about half the height of the major notes above. The 2 Fen coin is almost as big as the 1 RMB coin but its made of a much cheaper lighter metal.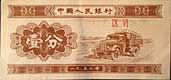 1 Fen (0.01 RMB) note and coin. Another one of the cute souvenir notes. Worth pretty much nothing, you'll have trouble getting rid of them even if you wanted to.