Budget Restaurants
Mid-range Restaurants
Top-end Restaurants
Chinese Food Guide
Eating Implements
Don't know anything about Chinese food ??

Featured western restaurant
Eating Tips 1 - Eating Implements
On arrival at a typical Beijing restaurant you will see at your place setting the following implements. The cup is used for tea (of course), the chopsticks are what you should be using for most other things.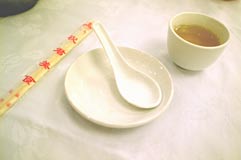 The small dish is for placing small food items which you have selected from the main communal food dishes. The spoon can be used to scoop things from the communal food dishes onto your personal small dish (to eat with chopsticks later) or for eating tricky things like rice and soup.
This page sponsored by: Soneva Fushi Resort & Spa Maldives Reservations
Recommended tour operator
Bargain/haggle a great price !