Taxi Tip 1
Taxi Tip 2
Bus Tip 1
Bus Tip 2
Subway Tip 1
Subway Tip 2
Subway Maps
Don't know anything about Chinese food ??

Featured western restaurant
Bus Tip 2 - Getting on, and paying for a bus
There are two ways to pay for a bus. One is to pay immediately, as you get on the bus. There will be a box with a slot near the driver. You put your money (usually 1 RMB) into the box. The driver oversees the process, and no change is given.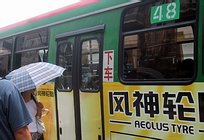 In the above pictures, you can see this kind of pay the driver bus. The rear doors are closed and are marked with the symbols for "get off the bus - exit". The front door has a line of people paying the driver with the symbols for "get on the bus - enter".
Another kind of bus has a dedicated employee whose job it is to collect the money from the passengers. On this kind of bus, you get on first, then pay later, at any time during your journey. The pictures below show the ticket seller and the pay-later bus, free-for-all, any door entry system. :-)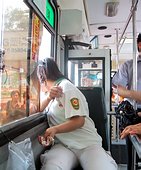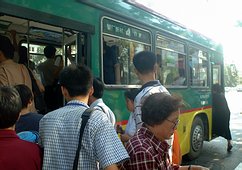 If the bus you are getting on is a regular, 1 RMB to anywhere, bus (see Bus Tip 1), it will often be the first type where you give the driver, and his little box, 1RMB, but this is not always the case, some are pay-later.
If it is a pay-by-distance bus (see Bus Tip 1), the person collecting money will ask you where you want to go so that they can determine your price. At this point you'd better have the written name of the station you want to go to to hand to them, or you can practice your Chinese pronunciation (not recommended).
Recommended tour operator
Bargain/haggle a great price !