Bus Tip 1 - How to read a bus timetable
Bus timetables look like some kind of strange mystical ancient tablet with strange markings to the average foreign tourist. But they are actually not too difficult to read once you have a few tips.
Below is a typical Beijing bus sign.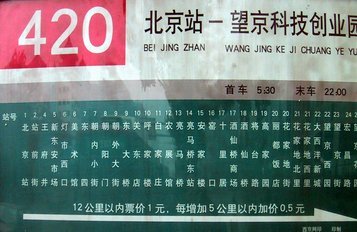 The big number in the top left hand corner, not surprisingly, is the bus number. Can also be found on the front of the bus. :-)

To the right of that are the first and last stations that this bus stops at. Easy huh ?

The writing and numbers in the grey bar signify the first and last bus times of this type. Another tip will be written soon explaining how to really read this part.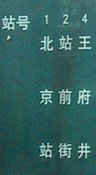 Next are listed the place names at which this bus stops. The place names are listed vertically on the sign, each under a sequence number. The sequence numbers are sometimes not quite right due to frequent changes, (as in the picture left). The first station in this sign is "Beijing Railway Station", station number "4", is "WangFuJing" (the main pedestrian shopping street and recognized centre of Beijing).
The bottom part of the sign details the price of the bus. Although many buses are priced 1RMB for anywhere you want to go, some are not. The sign below states that you can go 12km for 1RMB, then for every extra 5km the price goes up by 0.5RMB.

Below is from a different bus sign. This sign does state that its 1RMB no matter how far you go. Note on the sign below, the Arabic numeral "1" has been replaced by the Chinese character equivalent which looks like a "-" (dash).

Rough translation "-" (1) ticket price is "-" (1) RMB. The hovering tray above the table symbol means RMB and appears on both signs.
Related tips:
Bus Tip 2 - Getting on, and paying for a bus