Bicycle city
Apartment living
News billboards
Black hair
Bike-locked doors
Construction
Road barriers
Crazy English
Tea jar
Table sleepers
Inflatable arch
Gallery girls/boys
Bridal show
Sidewalk driving
Background music
Big thermos flask
Bus pass queue
Pants slit
Squat toilet
Rodent buffet
Don't know anything about Chinese food ??

Featured western restaurant
Tea is the drink of choice in Beijing and it needs to be drunk as often as possible, no matter where you are or what you might be doing. In order to facilitate this you need some special kind of equipment. Something cool, something fashionable, practical and that makes a statement about you.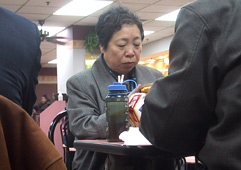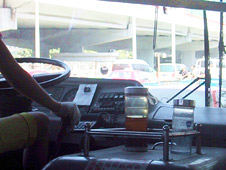 In Beijing, its a tea jar. A fairly ugly looking cross between a mug, a thermos flask, and an empty instant coffee jar. It has to be transparent glass or plastic so you can show off exactly what kind of wicked tea you're brewing. Indeed, Chinese tea can be made from almost anything, resulting in most tea jars looking like small tinted aquariums without fish. Its not until you see someone start drinking from one that you realize exactly what it is.
Tea jars can be found when you least expect, but a good bet for a guaranteed sighting is next to a bus driver's seat. Other spotting locations include taxis, parks, and universities aiding most lecturers teaching ability.
If you wish to pick up one of these trendy items for yourself, best to head to the "thermos flask and tea jar guy" in Hong Qiao Market (see photos).
Recommended tour operator
Bargain/haggle a great price !