Beijing Sights - Gallery girls / boys
You're walking along minding your own business when an overly enthusiastic voice in a less than precise accent exclaims, "Hellooo, welcome to Beijing !". The next phrase is almost certainly "we are students !". At this point you should put on your cautious hat.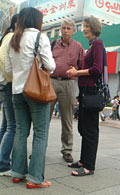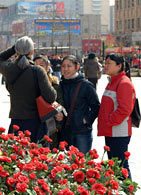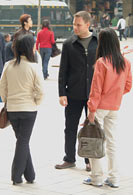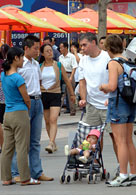 If you don't walk away from and/or ignore these people you will soon learn that these young girls, and occasionally boys, are studying Art and/or English at university. If they are a little impatient they will inform you that their school is having an exhibition nearby and that some of their paintings are included.
Anyway ... the main point is that eventually these girls will invite you to come visit their "Gallery". The gallery in question is in fact a Chinese painting, calligraphy and souvenir store. The prices at these stores depending on your bargaining skills can be somewhere from average to more than double what you "should" pay but probably still quite reasonable compared with the prices back in your home country.
We're not saying that these stores are a rip-off but if you're really on a budget or don't know how to bargain you'd be better off not going with them. The girls themselves are often actual students who get a small commission from each sale that they bring in. The better ones manage to learn English very well and go on to be professional licensed tour guides and other such respectable jobs.
The very best gallery girls might help you with any shopping you might want to do throughout your holiday and be your personal translator and guide for the price of a nice meal or two in tips. These better girls will often spend much more time in actually practicing their English before ever bringing up the gallery/souvenir store idea. The worse ones will get straight to the point and disown you if you don't want to go to their store.
Often it makes a good game to talk to these girls and see how long it takes them to suggest you go to their "Gallery". The record is an hour and a half in our research. This is of course assuming that you've got plenty of time on your hands. By asking good questions and getting past the sales facade you can learn a lot about the simpler life in Beijing and will be surprised at the kind of life they lead.
Gallery girls can be found in Wangfujing Street, Forbidden City, the Summer Palace and anywhere where tourists mass in numbers.
Warning: If girls try to take you to a Tea House or Massage Parlor be especially cautious as the bill for those kinds of services can run into hundreds of US dollars, even in Beijing!