WangFuJing
XiDan
XiuShui
HongQiao
Don't know anything about Chinese food ??

Featured western restaurant
Xi Dan is a very large shopping area and often frequented by real Beijing residents. Here you can find all kinds of things and almost no "specially for tourists" fare. The main focus of the area is 5 or 6 giant malls. These are very old fashioned, Chinese style malls, similar to a US department store. Most have 5 to 7 floors and sell the usual stuff you would expect. Electronics and high-fashion are usually located towards the top floors. If you're brave enough to buy a TV, DVD player or a Hi-fi, there is a good selection in the black glass mall with the large picture of a girl pictured in a later photo below. Probably the mall with the worst selection of everything is the first one you come across (pictured below left). Leave it till the way back, or skip it altogether.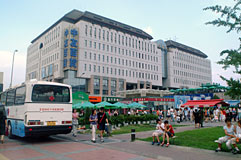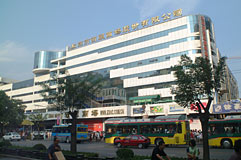 In addition to the main malls, there is a giant mobile phone mall. This mall is pretty much 2 or 3 floors of solid mobile phones (see update below). Because of this, there are many shady characters walking the streets asking you if you want to sell your mobile phone. They are of the opinion that anyone entering the large phone mall is going to buy a phone and no longer needs their old one. This is often the case, however most do stupidly ask the people leaving the mall if they want to sell their shiny new one. The phones in the massive phone mall (which is on the left as you walk down the main street) are not very cheap but the full selection is there. The cheapest place for phones is usually the two phone stores in Wangfujing Street.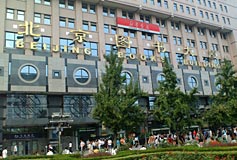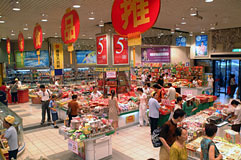 There is also one of the 2 largest book stores in Beijing here in Xi Dan. Its English name is the Beijing Books Building or Xinhua Book Store. You can follow signs from the subway to this place as its built pretty much on top of the subway station. This book store has mainly Chinese books but does have a foreign language part. There are also CDs, VCDs and DVDs (some real, some fake) on the upper floors.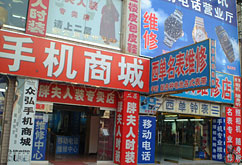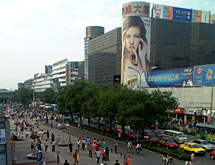 As you walk from the station north up the main street you are confronted with a line of clothing stores which have loud sales people trying to draw the crowds into their particular store. These clothes stores are the mid-range Chinese and Hong Kong brands, not great quality, not very cheap. If you are looking for clothes, go to the mall directly behind these. You will have to go down some side streets to find it. The bottom floor is filled with junk but the upper floors have very cheap bargainable clothes.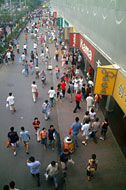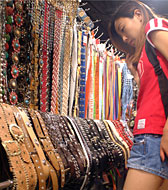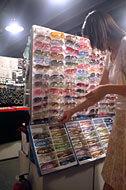 In the upper floors of the main Xidan mall (the top right picture on this page) you can find a young women's fashion accessory mecca (pictured above). Here you can find earrings, belts, sunglasses, necklaces, scarves, watches you name it, but as usual, bargaining essential.
Update 12/28/2003: Xidan is undergoing a major transformation. A huge new department store called the Grand Pacific has opened. This is now one of the best general department stores. The underground area near the subway station is being transformed into a new mall called 77th Street, (currently not open for business). The old large mobile phone mall on the left has been completely destroyed and a new tower is being built. The former occupiers of the mobile phone mall have now been moved into new temporary facilities all along the left side of the street (not yet open). The main Xidan Department Store, (last mall on the right side) is being refurbished. All-in-all, Xidan is turning into even more of a shopping mecca.
Xi Dan is a large area and is very crowded. Walking around it for any length of time can be very exhausting. To get there, best go by subway. There is a station right at Xi Dan. Its called Xidan (115) and is on the subway line 1. The Chinese name is written below if you want to go by taxi. As usual, print and hand to your taxi driver.
西单
Recommended tour operator
Bargain/haggle a great price !