WangFuJing
XiDan
XiuShui
HongQiao
Don't know anything about Chinese food ??

Featured western restaurant
This market is located in the south central area of Beijing, just to the east of the Temple of Heaven. It is an indoor mall with a seafood market in the basement and about 3 floors up. It is filled mainly with cheap electronic goods like portable CD players, vcd players, camcorders, batteries, sunglasses, electronics, household phones. Even thermos flasks and tea jars (see "flask man" photo later down the page).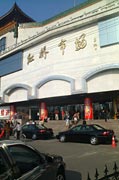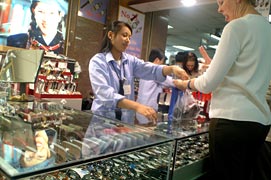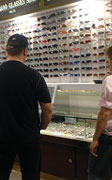 The items for sale are less brand conscious and tend to be from real "no-name" Chinese, Korean, Japanese and Thai companies. The quality does not look good but at the prices they're going for, does it matter if it lasts just 6 months ? You could often buy 10 of the items in question for the price of one real name brand in a department store.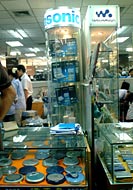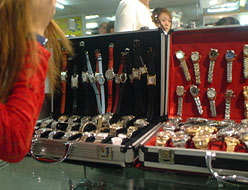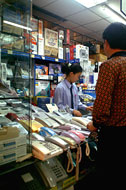 Our advice is, bargain for the deal, and don't expect quality. If you are thinking of splashing out on something like a camcorder, best to stick to Wangfujing or Xidan. If you just want a CD player or a cheap camera, mp3 player, boom box, electronic dictionary, watch etc. Hong Qiao is not a bad option.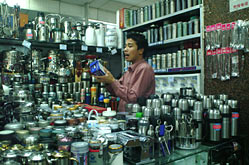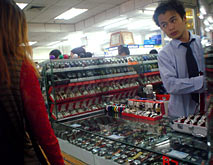 As for seafood, we don't know anything, but the basement market is large and many things are still alive till you buy them, so I guess it would be called fresh. The selection looks comprehensive.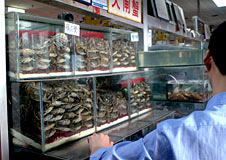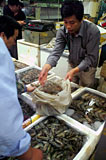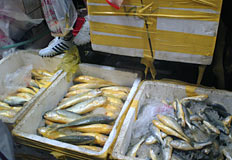 Hong Qiao can be reached by bus but its probably most convenient by taxi. Just hand the Chinese name below to the taxi driver.
红桥市场
Recommended tour operator
Bargain/haggle a great price !