Metro Cafe
Taj Pavillion
Don't know anything about Chinese food ??

Featured western restaurant
Top-end Restaurants - Taj Pavillion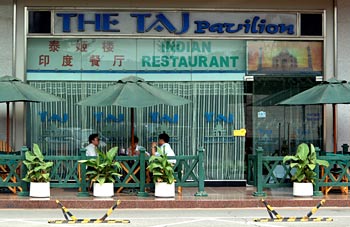 If its Indian food you are looking for, there are only a few select places you can find it in Beijing. But when you do find it, its comparable to the best Indian restaurants anywhere in the world. The only difference is price. Indian restaurants in Beijing tend to be very expensive and the Taj Pavillion is no exception. A good meal for two here won't leave you much change out of 300RMB and may cost even more depending on how many extras you go for.
Having said that, the service, quality of food, and overall atmosphere here is great. Come with a group or as just a couple, you'll feel equally at home. Don't be fooled by the very modest exterior. Walk inside and you will find a comfortable, quiet, plush restaurant up to International standards.
The Taj Pavillion is found near tower 1 of the Guomao World Trade Center. You can get there on the subway and get off at the Line 1 Guomao station. Take Exit A of the subway, walk up the outside stairs then turn right at the top of the stairs and cross the main road into Guomao. The Taj Pavillion faces Chang An Avenue and is a short walk past KFC.
You can hand the following directions to your taxi driver which should take you to a point near Starbucks in the China World Trade Center. From Starbucks cross the road, then walk left and turn right at Hagen Daz cafe on the corner.
泰姬楼印度餐厅
The Taj Pavillion
国贸1座, 长安街,3环附近。
Bargain/haggle a great price !