Da Xuesheng
Ying Hong Shan
Xingqi Ba
Jin Bai Fa
Qi Tian Lou
Don't know anything about Chinese food ??

Featured western restaurant
Budget Restaurants 2 - Ying Shan Hong
Ying Shan Hong is a very small Korean restaurant which, at the time of writing, was open 24 hours. It is very cheap but the food is great and the cleanliness is above average for a small budget restaurant.
This place is located opposite the Jin Ke Long supermarket to the south of Chaoyang Park. You can take the 710, 752, or Mini 3 buses from Da Wang Lu subway station heading north. Or of course, by taxi using the directions at the foot of the page.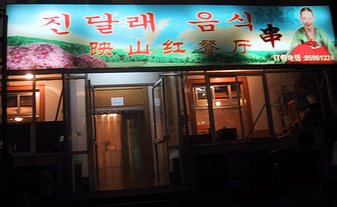 You can cook meat kebabs at your table or have them cooked for you. The other thing we strongly recommend here is the Beef Mix Rice (Niu Rou Gai Fan).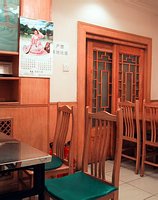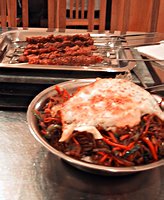 Taxi directions (print and hand to driver)
映山红餐厅
金台路, 朝阳公园南边, 京客隆超市的对面。
Bargain/haggle a great price !