Da Xuesheng
Ying Hong Shan
Xingqi Ba
Jin Bai Fa
Qi Tian Lou
Don't know anything about Chinese food ??

Featured western restaurant
Budget Restaurants 3 - Xingqi Ba ( the 8th day of the week )
Update February 2004: This restaurant is CLOSED DOWN for the time being. Please select a different restaurant from our selection of Budget Restaurants.
Xingqi Ba is near the Industrial University in the South East of Beijing. Its frequented by the local community which has its fair share of students and teachers. The floor is clean and the air conditioning works. The food tastes great and is reasonably priced.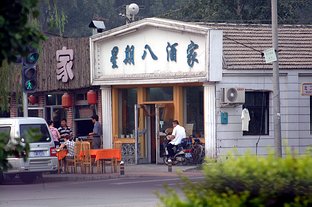 This small restaurant serves some great Chinese home style cooking and has service with a smile. They don't speak English but have a lot of experience with foreign guests' attempts at Chinese. Give it a try.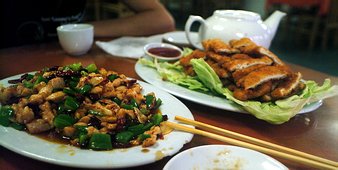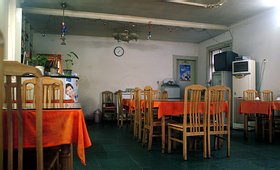 We particularly recommend the Lazi Ji Ding (Spicy Diced Chicken) and Zha Ji Pai (Deep fried breadcrumbed chicken breast), pictured above.
Taxi directions (print and hand to driver)
星期八酒家
西大望路,北京工业大学门口的北边五十米。
Bargain/haggle a great price !