Da Xuesheng
Ying Hong Shan
Xingqi Ba
Jin Bai Fa
Qi Tian Lou
Don't know anything about Chinese food ??

Featured western restaurant
Budget Restaurants 4 - JIn Bai Fa
Jin Bai Fa is a place you might stumble into on your own. It is located near the Hou Hai boating and bar area of Beijing. At one point as you walk around the lakes you'll see a side road out onto a large street. If you walk towards this and turn right you might come across it. If not we can tell you its located on Di An Men Wai Da Jie, which is a right turn off Di An Men Xi Da Jie.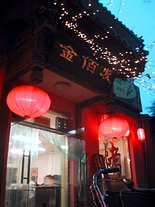 The big Chinese character in the window is Kao, meaning roast, which in general means, roast on skewers or grills across flaming charcoal. You can either cook the food yourself on your own personal table grill, or you can have the staff do it for you. If you're not in the mood for roast at all you can eat regular Chinese food upstairs in an additional seating area where there are no clumsy grills in the middle of your table.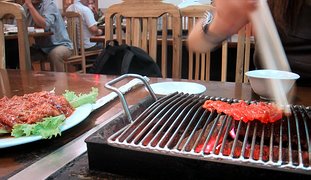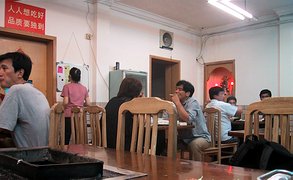 This restaurant is on the low end of our cleanliness scale so be prepared for a little garbage on the floor. The price and taste make up for it though. We recommend a plate of chicken and/or a plate of beef to roast at your table. You could accompany this with a small portion of Hao You Sheng Cai (lettuce in gravy) and a bowl of rice per person.
Taxi directions (print and hand to driver)
金佰发
地安门外大街。
Bargain/haggle a great price !