Da Xuesheng
Ying Hong Shan
Xingqi Ba
Jin Bai Fa
Qi Tian Lou
Don't know anything about Chinese food ??

Featured western restaurant
Budget Restaurants 1 - Da Xuesheng (University Student)
Da Xuesheng is not the kind of place you are likely to find on your own. It is located on Dongsi Street, which runs parallel to Wangfujing Street on the east side. You can find it by going to the east end of Oriental Plaza. The furthest east exit of Oriental Plaza brings you out onto Dongsi street. From here turn left and walk north for about 5 minutes. The restaurant is on the left hand side and is easy to walk straight past. The yellow sign you see in the window in the photo is all there is.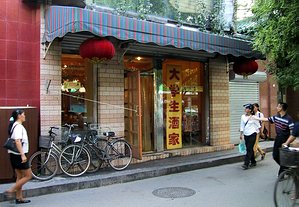 This restaurant is a great example of modern traditional Chinese dining. The menu is extensive and the taste is authentic. The cleanliness and hygiene is budget to mid-range, but bear with it or you'll miss some great, value for money food.
Taxi directions (print and hand to driver)
大学生酒家
东单北大街, 北京协和医院附近, 从长安街在东单十字路口往北拐, 路西,医院北边胡同口向北十米。
This page sponsored by: Caribbean Resort Reservations
Bargain/haggle a great price !