Sanlitun North
Sanlitun West
Sanlitun South
Sanlitun Center
Don't know anything about Chinese food ??

Featured western restaurant
Sanlitun North Area (last updated 3/17/05)
The taxi will usually want to drop you off at the entrance to Bar Street (Sanlitun Lu) which is at the bottom of the map. To walk to the top of this map will take about 10 minutes if you walk quickly. As you walk down the main street (especially the right hand side) you will be hassled by people telling you how good their bar is and that you should go and take a seat. This is just the locals way of doing business. You may also be approached by beggars, flower sellers, dvd sellers and other such things. Its all part of the experience, but be warned, if you do give money to one beggar, more will arrive quickly.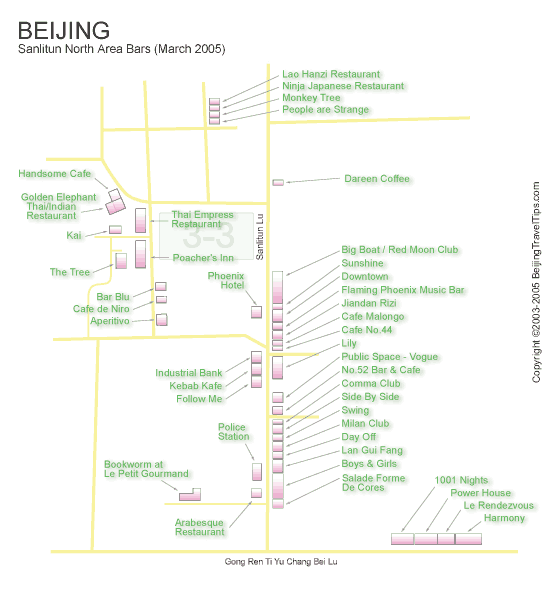 In general it is real difficult to distinguish many of the bars in this area especially on the main street. We particularly recommend the following bars .. Comma (small and fun) , Public Space (quiet and classy, good coffee), Swing 58 (nice food & entertainment). Popular with expatriates for drinking and fun are Poacher's and The Tree (formerly Hidden Tree from South Street). The Bookworm (free wireless Internet) has a loyal following of quiet chiller's, workers and students due to its large library of English books and nice coffee. Handsome Cafe (free wireless Internet) has excellent, reasonably priced Italian food and a great atmosphere. The Golden Elephant also has great priced Indian and Thai food.
More tips about Beijing bars: When you go into a bar in Beijing you will often find it very small and people tend to sit much closer together than in a western bar. Prices are higher than you would expect. Do not think that China is a poor country and that no matter what you do it won't cost much money. A coke in the supermarket will cost you 2 RMB, in a Sanlitun bar or disco, a glass of coke might cost you up to 35 RMB. Some bars/discos have very comfortable seating areas/rooms which have a minimum drink cost. e.g. You need to spend at least 400 RMB if you want to sit here. They will try and tell you this but in varying levels of English.
Bargain/haggle a great price !