Sanlitun North
Sanlitun West
Sanlitun South
Sanlitun Center
Don't know anything about Chinese food ??

Featured western restaurant
The taxi can drop you off anywhere along the street near one of the 3 big hotels. The Den is at the far west and is a very small disco bar/cafe but in a more western style. The Rock & Roll disco has nothing whatsoever to do with Rock & Roll and instead plays an old fashioned techno/house combination, it is one of the 3 biggest best discos in Beijing and is very popular. The Power House bar often has a good live band. Success is a very interesting, very Chinese styled, entertainment bar in a very unusual building often with a floor show from 10pm- midnight. Well worth a visit.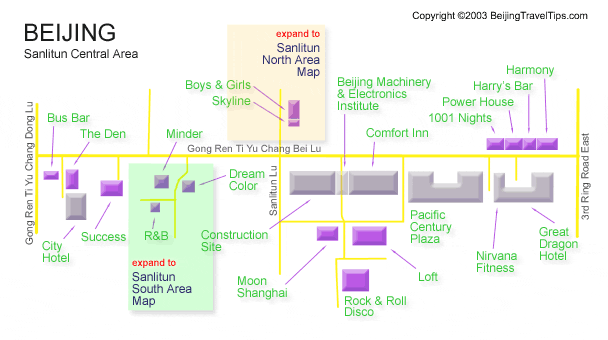 Bargain/haggle a great price !