Don't know anything about Chinese food ??

Featured western restaurant
Shopping - Xiu Shui Market (archive page)
(Obsolete 01/20/05 - new version here)
No visit to Beijing would be complete without a trip to the infamous Xiu Shui Market. You can get all kinds of clothing here e.g. shoes, shirts, sweaters, coats, leather jackets, real silk, cashmere, together with watches and the occasional dvd seller. Most have a brand name such as Timberland, Tommy Hillfinger, Nike, Adidas, Boss, Gucci, Prada, D&G, Virsace etc. but not all do. The market has reputation far and wide as a place where you can get North Face jackets and Rolex watches for a fraction of their normal price.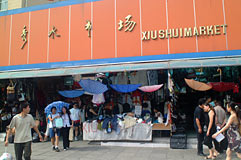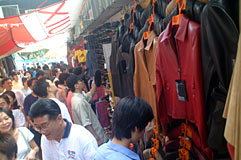 Well, of course, you can get something that looks extremely like a North Face jacket, but the reality is, all items here, with a brand name that is, are a guaranteed good quality fake. In fact some of the fakes are extremely realistic and not bad quality, but rest assured, you are not getting the real deal.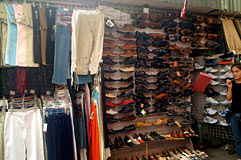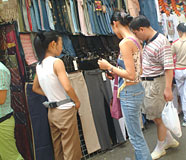 We, of course, do not condone piracy. Piracy is at its worst when no-one knows that the brand name is not real, the consumer has paid the expected price, and the quality is below par. At the Xiu Shui, everyone should know its fake, and no-one should pay anywhere near the real price. We are here to tell you , no matter how good it looks, "Its NOT real !". Some other travel guides have suggested that the seller has a friend in the real brand name factory who procures seconds or out-of-season goods. No... its not even that... its FAKE !! REALLY !! Totally fake, so do not be fooled.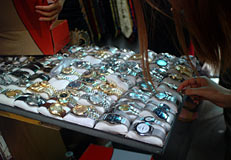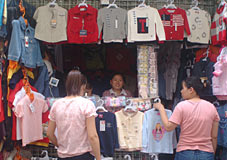 Enough about that. Once you've decided that 6 or 7 fake Rolex watches would make ideal stocking fillers, you've now got to go through the pain of bargaining to ensure that they are indeed stocking filler price. Bargaining is essential at Xiu Shui and even if you are a solid bargainer the chances are the deal will not be great as there are so many gullible tourists to choose from at this market. Better places to buy will be detailed shortly on this site.
The Xiu Shui street main entrance is located along Chang An avenue near the Yong An Li (120) line 1 subway station. If you come out of the subway station and walk west along Chang An you will see the large sign pictured above within a 2 - 3 minute walk. Alternatively you can take a taxi using the Chinese name shown below. Print and hand to your taxi driver. The driver might drop you at the back of the market near the embassies depending on where you are coming from. The market is not big and is easily walkable from end to end.
秀水市场
Bargain/haggle a great price !